In New Jersey, we have a number of very impressive schools, including district, charter, magnet and private schools. We think that one of the best things we can do for our state's kids is learn from one another's struggles and successes. That's why we're strong believers in district-charter collaboration.
A strong example of such collaboration is on display in Newark between Newark Public Schools and Uncommon Schools. Their history of partnership began in 2015, when Uncommon students at Newark's Alexander Street school obtained state assessments scores that matched or exceeded the state average for affluent districts. This led to interest from NPS and the first collaborative effort – a summer school program for students lagging in reading that utilized Uncommon's reading program. Trainings for NPS teachers and literacy coaches followed, leading to impressive gains for district students as well.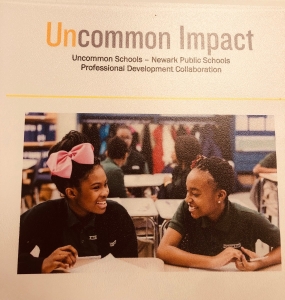 This successful resource-sharing continues today, and JerseyCAN was lucky enough to witness it on May 17th at the Rigorous Reading II Workshop. This year, about 100 teachers from 11 Newark Public Schools attended day-long trainings provided by Uncommon Schools.
Throughout the course of the day, the participants watched video recordings of classes, analyzing and discussing the successful methods utilized by the teachers. Topics ranged from the importance of positive feedback to encouraging peer-to-peer engagement to ownership of texts and lesson plans. The group also had opportunities to experiment and act out scenarios, getting feedback from the other educators in the room. As Jill Budinich, a literacy coach, put it:
"We're building a common foundation of best practices – common language, protocols and routines. It will help us all build rigor into our lessons, monitor and adjust instruction and give feedback for student growth."
From our position as observers, participants were not merely listening to a presentation on effective teaching. Rather, the educators drew on their dynamic and varied experiences and expertise to inform the content of the workshop. They watched a video, considered how such a method could (or could not) work in their classrooms and offered their perspective to the room.
This is what good professional development and a positive district-charter collaboration can and should look like. Thank you to both Uncommon Schools and Newark Public Schools for your commitment to this vision. As the data from the NPS/Uncommon partnership shows, the biggest beneficiaries of such cooperation are our state's students.
Is your school or district involved in a successful district-charter collaboration effort? We'd love to hear about it.