There is a difference between data and information. You can be data rich but information poor. In New Jersey, we currently collect a plethora of data from our communities, businesses and school districts. But we are information poor when it comes to understanding staffing and retention trends in our educator workforce — the individuals who staff our schools and school districts.
In Part One of our Educator Workforce Series, we provide foundational data — a snapshot — of the educator landscape in New Jersey.  Based on the foundational data, we recognized the need for and made policy recommendations calling for more intentional collection and tracking of educator workforce data and multi-year projections.  The goal of those proposed policies is to better inform the supply of our current and future workforce to ensure that all students have access to the exemplary teachers they need to prepare them for college or career.
During our research, we discovered that New Jersey collects over 100 data elements about district staff, including teachers, administrators, support staff, and more, on an annual basis. Reported information includes staff who have been hired and assigned to teach a specific job or course, relevant certification, salary, years of experience and type of preparation (traditional or alternate) route. However, none of these elements include position numbers or vacancy details (i.e. the number of open teaching positions in a school). Why are the position numbers and vacancy details important?  Without them we cannot track teacher movement and we cannot accurately predict the future demand that our school districts have for teachers. Without projections we do not know whether teacher preparation programs are preparing enough future teachers for open vacancies and in-demand certifications.  For example, we cannot answer questions like:
How many more physics teachers need to be prepared for all students to have access to at least one physics course; or
What courses are at risk of no longer being offered due to retirements and a shortage of certified educators?
As a result, JerseyCAN has proposed the following solutions to help leverage the state's data collection to answer critical questions about the educator workforce:
Collect demand data: There are critical data elements missing from the current NJSmart collections that would make workforce projections easier to produce and would better inform the pipeline of new teachers. These include open positions, new positions, removed positions and anticipated retirements for all staff positions.  Furthermore, tracking how many new hires come from outside of New Jersey would be helpful data for the state to collect.
Publish education workforce projections annually: It takes years to prepare teachers and other instructional staff to be educators in New Jersey. New Jersey's pipeline needs projections of how many future teachers will be needed to adequately recruit talent, adapt coursework, develop partnerships with districts and close achievement gaps. Other industries have used projections for years to adapt the preparation and training of talent for the needs of their future workforce, but education has been left out.
Prioritize workforce solutions for the Educator Workforce: The current state of data availability and prioritized questions being answered through

NJ Education to Earnings Data System (

NJEEDs

)

should focus on our pk-20 workforce. The research has shown that teachers are the number one in-school influencer on student outcomes. In light of COVID19, state and local leaders are finding unprecedented staffing challenges and many school leaders predict that the impact of this economic and health crisis on their personnel will stifle the pipeline for years to come.  As a result, developing accurate projections for the educator workforce are even more important.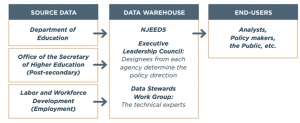 *The image above represents the NJEEDS system.  Source data from multiple agencies is linked in the data warehouse in order to publicly share the outcomes of our students through New Jersey's pk-20 education system.
Join us in supporting the need for and prioritizing collection of the missing data elements that can drive workforce projections and ultimately ensure that we have the number of and types of certified teachers to serve our students today and in the future.