JerseyCAN is an education research and advocacy organization. Our organizational goal is that every child in New Jersey graduate ready to pursue and succeed in college or their chosen career. To pursue that intention, it's essential that we think about the world students will enter after graduation.
What will they be expected to know and accomplish in college? What kind of job market will they enter? What skills, attitudes and experiences are their future professors and supervisors looking for? We can't advocate for effective education policies without this information.
To help further our work in this area, we were thrilled to be invited by the John J. Heldrich Center for Workforce Development at Rutgers to co-host their recent conference on "Investing in Opportunities to Create Good Jobs" on May 16th in New Brunswick, NJ.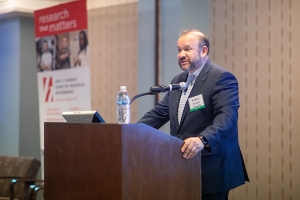 The event was attended by employers and workforce development practitioners, as well as researchers, civic and nonprofit organizations and philanthropists, all interested in the future of work. The first keynote address came from Robert Asaro-Angelo, Commissioner of the NJ Department of Labor and Workforce Development, who discussed New Jersey's growing industries (including the needs in STEM fields) and praised apprenticeships as effective tools for education and workforce development. He was followed by Alastair Fitzpayne, Executive Director of the Future of Work Initiativeat the Aspen Institute, a think tank focused on values-based leadership. His presentation focused on how the landscape of "work" has significantly changed since the 20thcentury, mentioning more recent issues like nontraditional work arrangements, lack of access to benefits and the decline of middle skills jobs.
This was followed by a panel discussion with representatives from the New Jersey Sustainable Business Council, the Federal Reserve Bank of Boston and CLASP, a Washington D.C. nonprofit dedicated to policy solutions that improve the lives of low-income people. Speakers encouraged businesses to stop thinking about employee support and commercial success as separate (or competing) issues. Rather, employee training and stability, they argued, make companies attractive to talented candidates and turn them into engaged, committed and productive employees. And these are the kind of employees that bring business success. Employers were urged to embrace transparency in governance, invest in continuing learning for employees and engage with communities.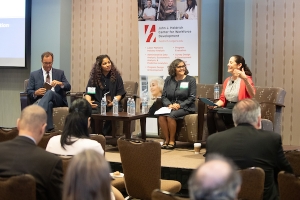 What can JerseyCAN take away from this event as we continue to advocate for New Jersey students?
-Routine jobs, which require repetition (i.e. doing the same task over and over throughout the day), are rapidly disappearing, and many students will find themselves doing jobs that don't exist yet. As we learned at Age of Agility, the workforce of the future will require continued and lifelong learning.
-Also on the subject of lifelong learning – employers are being encouraged to invest in training for employees. While students are still in school, the education system must teach the soft skills, such as problem-solving and creative thinking, that will allow students to take full advantage of these future opportunities.
-Businesses are considering how to positively contribute to their communities and the larger world, which means that students need to be prepared to confront complex, real-world problems and propose solutions. To do that, students and employees will need to understand the world around them.Therefore, things like apprenticeships, real-world learning and community partnerships will become necessary components of modern education.
It is clear that our employers are invested in future employee learning and professional success.  And we as education advocates will encourage flexibility and skill-building from an early age so that students are prepared to confront the increasingly complex workforce.