In the Charter School Program Act of 1995, the Legislature found and declared that "the establishment of a charter school program is in the best interests of the students of this State and it is therefore the public policy of the State to encourage and facilitate the development of charter schools." Specifically, the Legislature noted that charters could improve pupil learning, increase educational choices for students and parents and could "encourage the use of different and innovative learning methods."
Throughout New Jersey, we are seeing the promise of charter schools become a reality as communities embrace district-charter collaborations and programs for the benefit of all students.
Indeed, earlier this month Paterson charter leaders rallied alongside members of the Paterson Board of Education to call for increased school funding in the city. Attendees recognized that they all have the interests of Paterson children at heart, and that bridge-building is possible from this common, positive base:
"This is exactly what we need. We're all together fighting for the common purpose — that's adequate funding for all our students," said Nihat Guvercin, head of the Paterson Arts and Science Charter School. "It really doesn't matter whether students are attending charter schools or traditional public schools. They are all our kids."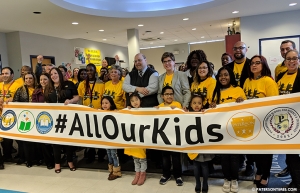 Source: Paterson Times
This unity carried over into the Department of Education's Assembly Budget Hearing last week, when Assemblyman Wimberly acknowledged: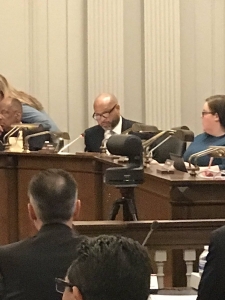 "As I've told people, all students are our students. I don't care if you're in public school, charter school, parochial school, whatever it is, they are all our kids. That's the bottom line. There are many arguments in many communities about charters, about parochial funding, but these kids are our kids. Bottom line. If you're a taxpayer, or you're paying rent, whatever it may be, your child deserves to learn whatever way you think is best for your child."
Assemblyman Burzichelli expressed similar sentiments, recommending that we look to the success of the state's charter and renaissance schools to see what effective models can be emulated for the benefit of all New Jersey students.
These are notable signs that charters are a positive force in New Jersey's education landscape, offering tools and innovations that help, not only charter students, but all kids, teachers and education leaders around the state.
Where and how is this actually happening?
Newark and Camden both utilize common enrollment systems, which work to provide information on educational choices and limit the stress and confusion for families seeking high-quality schools for their children.
Newark Public School guidance counselors traveled to the KIPP College Counseling Institute in San Antonio, to learn about KIPP's methods for helping students select college and career paths.
Uncommon Schools provided materials and training to Newark Public School teachers on reading instruction. This program received praise from Newark Superintendent Roger Leon, who said "We want to be in conversations with partners who are doing things we're not doing…they get credit for saying they helped us — and we get credit for doing a strategy that worked."
We're encouraged to see the promise of collaboration and innovation from charter schools coming true through these and other programs. After over 20 years of our state's charter school law, we know that successful collaboration is possible and that all students are helped when it happens. Moving forward, let's ALL strive for more of it.