On April 10th, the JerseyCAN team headed to Trenton for the Assembly Budget Hearing on budgets for the Department of Education and Schools Development Authority. The hearing explored several issues important to us, including funding, assessments and the role of charter and renaissance schools. 
Here's what we heard, what's still in question and what we're hoping to hear in the coming weeks: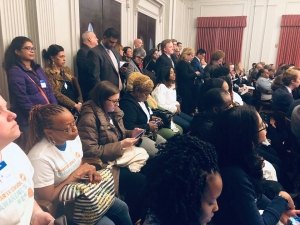 Charters:  We were pleased to see approximately 20 parent charter advocates in the hearing room to show their support of parental choice and charter schools. They were fortunate to hear several positive comments regarding the quality of charter and renaissance schools and the positive role they play in the state education landscape. For example, Assemblyman Wimberly emphasized the importance of parental choice, and Assemblyman Burzichelli noted that successful charter and renaissance school models could be emulated for the benefit of all New Jersey students. We look forward to substantive conversations of how charters are efficiently using their dollars and further discussion of charter-specific funding challenges, such as facilities costs.
Graduation Assessments: The agreement reached between the Murphy administration and the Education Law Center provided a path to graduation for the classes of 2019 and 2020. But the class of 2021, who enter 11th grade this Fall, still face uncertainty as to what they must do to graduate (see our previous blog post or recent webinar with B4K for more information on the details). The hearing provided little information on the development of a new assessment for future New Jersey students. We certainly hope for clarity on this issue in the coming months. This feeling of impatience was echoed by several legislators, including Asw. Pintor Marin, who mentioned the importance of assessments for monitoring student progress.
S-2 and Emergency Aid: Although many school districts will see funding increases this year, there are also districts who will see less due to S-2. Commissioner Repollet indicated that emergency aid is available and that impacted districts could apply. Asm. DiMaio mentioned the rising pension and health costs, and the challenges the state will face in its efforts to fully fund districts. As these discussions continue, we hope to see collaboration between districts and DOE, as well as more cooperation between district and charter school leaders on the issue of adequate funding. Here's an encouraging recent example from Paterson.
Schools Development Authority: This independent agency is tasked with construction and design of school buildings in the 31 Abbott districts, as well as contributing grants to help build facilities in regular operating districts. Assembly members focused many questions on the size of the SDA's budget, the amount of funds remaining to be spent and personnel hires. Recently, some have been calling for folding the SDA back into the Economic Development Authority, and others suggest a re-evaluation of the Abbott district status. After tense exchanges at the hearing, it became clear that the legislature has continued questions about SDA. More details will likely emerge in the next few weeks.
The Department of Education and SDA will next appear before the Senate Budget Committee on April 30th. JerseyCAN will be there looking for more details on these issues, and we will keep you posted!