In Part One of our Educator Workforce Series, The State of the New Jersey Educator Workforce report, we dove into a comparison of the demographic composition of the New Jersey educator workforce versus that of the student body. What we found is that while New Jersey is one of the most diverse states in the nation, it is also a state where the demographic disparities between the makeup of the student body and our educators are significant. 
Specifically, in terms of race, the makeup of the educator workforce does not match the diversity found in the student body.  Figure 5 shows the diversity of our student population compared to our educator workforce. Our workforce is 84% white and 16% non-white, whereas our students are 57% non-white and 43% white.  This disparity has created an experience where a concerning number of students, approximately 163,000, will never have a non-white teacher and 121,500 students will never see a teacher of their same race in their school.  In fact, in 2016-17, one in five schools employed no teachers of color.
Part One of our report reveals that these racial disparities also maintain when student demographics are compared to our administrator population.  As you will read in Figure 4, school administrators are 77.9% White and 13.8% Black and 6.9% Hispanic.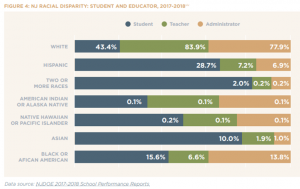 Striving for an educator workforce that reflects the diversity of the NJ student population can benefit ALL students, as well as have a positive impact on students of color who are behind their peers in academic learning. Here are just five key benefits of diversifying the educator workforce that we discovered:
Teachers of color help close achievement gaps for students of color and are highly rated by students of all races.
Students who are exposed to diversity have improved cognitive, critical thinking and problem-solving skills.
Regular interactions with a variety of racial and ethnic groups help students debunk stereotypes and reduce unconscious bias inside and outside the classroom.
Students of color taught by at least one teacher of color in grades K-5 have increased graduation rates and standardized test scores.
Black students who have at least one same-race teacher in the elementary grades are less likely to drop out of high school.
All students, white and non-white, benefit academically from having teachers of color and add value to their overall educational experience.  Students of all races tend to rate teachers of color highly and the experience of learning from teachers of different cultural, ethnic, and/or racial backgrounds advances students academically in terms of their critical thinking and other skills. Furthermore, a more diverse and demographically reflective educator workforce can have a tremendous impact on creating more equitable communities by challenging biases that may maintain over time.
In addition to being beneficial to student populations as a whole, an increasingly diverse educator workforce can have a valuable impact on increasing the academic success of students of color. In regards to Black children specifically, a small increase in the presence of Black teachers in their early years of schooling can have positive consequences years later in high school. If we are a stay truly committed to providing a high quality education to students no matter where they live or what they look like, then this includes answering the needs of our student populations.
JerseyCAN is committed to working with partners and stakeholders to further diversify the educator pipeline.  But, the solution to diversifying the workforce is not as simple as just increasing the number of non-white teachers. It must also include diversifying the leadership and improving school and district cultures to be more inviting, respectful and unbiased.  Knowing that it will take time to build out a diverse pipeline of educators, JerseyCAN recommends that educators are upskilled to use culturally responsive practices in their classrooms. COVID-19 shined an even brighter light on this need for the current workforce to be responsive to their students' cultural backgrounds and identities.  The foundation of trust and respect between a teacher and a student is even more important when school is taking place in a child's home and that environment may not be one that the child wants to share. In the coming weeks, we look forward to continuing to advance these imperative policy solutions.