JerseyCAN is spotlighting our Teacher Fellows to show how #NJStrong they are with their resilient and creative support for students during this challenging time. 
Read more about JerseyCAN's Teacher Leader Policy Fellowship here.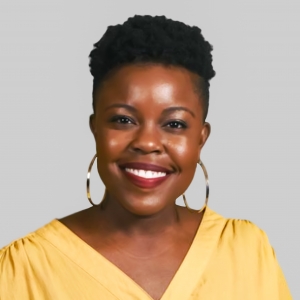 ELIZABETH NAMUGOSA
Special Education English Teacher & Department Chair
Lincoln Park High School of North Star Academy
Newark, NJ
Elizabeth is a teacher and school leader who has worked in education for 6 years. In March 2021, her school transitioned from a year-long, completely virtual model to a hybrid model; throughout this time, she has used her role as the Chair of the Special Education Impact program to provide deliberate communication and agency to students and staff.
"We first developed a day-long tutorial and information session to help acclimate our students with learning differences to the remote setting. Additionally, we have regularly held forums and programs that facilitate social-emotional learning and promote wellness to target some of the physical and mental health concerns that have been illuminated by the pandemic's circumstances. Students were presented with space to research, discuss, and develop their own personal self-care toolboxes."
As a Black woman with roots in Newark, Elizabeth has always been deliberate about embedding opportunities for students to better understand their culture and community in her own curricula. This year, in response to the national movement to dismantle structural racism and ensure our education systems work for every student, she has created assignments and projects catered to giving students choice and voice, particularly students who are less heard.
"In a People of Newark project, students delved into the history of their city, particularly the Newark Rebellion of 1967, while taking on a journalistic endeavor to present their personal and familial stories of this city."
The broader Uncommon School community has also propelled necessary social justice and equity work forward. In June 2020, alumni, upperclassmen, and former staff members created a platform on social media to discuss topics such as representation, their schools are predominately Black and brown but staff and leadership are largely white, as well as culturally responsive pedagogy, curriculum and discipline methods.
"I was proud and inspired by their will and spirit of resistance to create a better school for the students that will follow them."
It will take a strong community like this to plan the ways that educators will respond to the varying academic and social emotional experiences students have experienced this year.
"Digital learning did, in fact, accelerate learning and achievement for some students that typically struggle with an in-person school day, particularly students with special needs. On the other hand, it widened the achievement gap amongst social class and race highlighting how inequality persists through education."
With strong leadership and a community of support, though, Elizabeth has high hopes for how the future of education will be impacted.
"I believe that 2020 was a portal of opportunity within education in this country. Yes, it was challenging, but it also showed us where we have room to grow and what is possible. Many of us spent time reimagining what school should look like."
We commend Elizabeth, and countless other educators out there, for using this challenging time to grow and continuing to imagine what is possible for our students.  We appreciate you modeling how to stay #NJstrong!