Key findings of the study include:
"Enrollment in a Newark charter school that participated in the common enrollment system leads to large improvements in math and English language arts (ELA) test scores, on average."
"The benefits of charter school enrollment do not appear to vary meaningfully depending on a student's race, gender, or qualification for free lunch—though these estimates are based on smaller sample sizes and are thus less precise."
Learning gains were even more pronounced when the study isolated students in the city's two largest charter school networks – KIPP Newark and Uncommon Schools – North Star Academy.
The magnitude of the impact from attending a Newark charter school is comparable to those found in prior research on charters in Boston and Denver…"attending a Newark charter school has a larger effect than 80 percent of other educational interventions that have been studied using an experimental design", according to a paper by Brown University Professor Matthew Kraft.
This report is significant because, in Newark, the charter sector has grown from educating just 7 percent of the students in 2006 to an estimated 38% in 2019 and could reach 50% in future years. Relations between the city's district and charter schools have radically improved in recent years, but the study comes at a time when tensions have resurfaced during a recent debate over whether to close four Newark charter schools.
These findings underscore the need for expansion and funding that high-achieving charter schools deserve. All children deserve an excellent education, regardless of where they were born, their cultural background, their socioeconomic status or their zip code.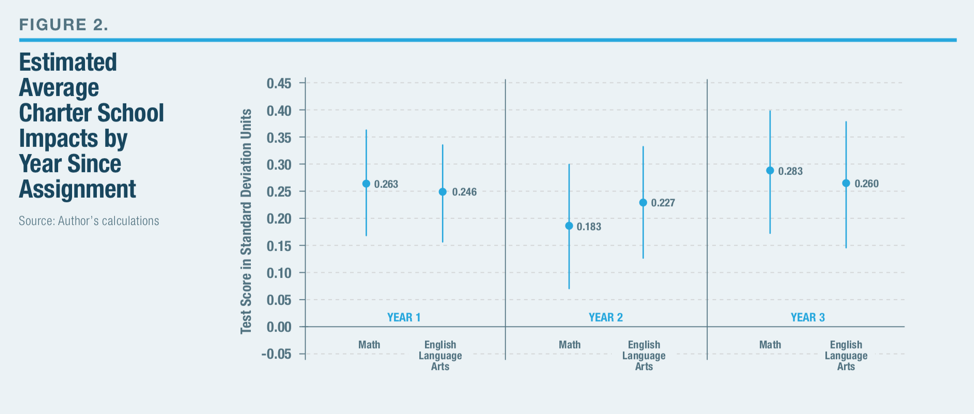 "Figure 2 illustrates the results from estimating the effect of enrolling in a participating charter school on student math and ELA scores one through three years later. The analysis estimates that enrolling in a charter school that participated in Newark Enrolls, rather than a traditional public school, leads to an increase of 0.263 and 0.246 standard deviations in a student's score that year in math and ELA, respectively. These results are statistically significant and are considered "large," ac- cording to the standard for interpreting effect sizes in education recently posited by Kraft.16"
See here for a new op-ed on the report from Kyle Rosenkrans, ED of the New Jersey Children's Foundation.