Communications Associate
Anne (or Annie, like the musical) has been calling Jersey home since she was 2 years old—but for a while, she went exploring in the Philadelphia area, having earned her B.A. in Religion from Bryn Mawr College.
Annie completed a year of service in the city itself through the Episcopal Service Corps. She assisted the Youth Ministry office of the Episcopal Diocese of Pennsylvania with communications, events and operations, and went on to join Americorps through the Notre Dame Mission Volunteers. She aided vulnerable city residents who face homelessness, mental illness, addiction and other traumas.
Annie returned to the Garden State to earn a master's from Rutgers University-Newark in public administration. In graduate school, she supported outreach and partnerships for the National Center for Public Performance (NCPP).
Having benefited from high-quality educational institutions throughout her life, and eager to combine her personal and professional strengths and experiences, Annie joined the JerseyCAN team as communications associate in November 2018.
I aspire to be like my mother. Here's why:
My mother is curious about everything and everyone, and outspoken regarding her opinions. This combination allows her to be sensitive and empathetic, while also challenging people when they need to hear difficult truths. Although I'm less naturally outgoing than she is, I strive to model these qualities.
Why I love my job:
At its core, I see communications as the process of learning and sharing an organization's most important values. We do this by collecting individual stories and pieces of data, and weaving them together into something beautiful or compelling. In the world of education, there are  so many stories to collect: from students, former students, parents, teachers, administrators, lawmakers and more. We've all been taught. I'm honored to hear these stories, learn of our organizational impact and use the information to craft messages and strategize for the future.
My connection to public schools:
I'm a graduate of the New Jersey public school system. As a quiet, socially awkward little girl, the classroom was something of a refuge. It was a place where my mind and its quirks were respected and valued. I hate to think that so many students—both in my state and across the country—attend schools that fall short of serving as this safe, empowering space. I want to be part of changing this.
What I'm bad at:
Two big ones come to mind—the first being directions. Even in this glorious age of Google Maps, I somehow manage to get lost on a fairly regular basis. Thankfully, I've learned to build wiggle room into my travel time to minimize potential stress. The second is acting. My older sister is the big performer in our family. Me? My emotions tend to live on my face. I've gotten better, but I'm still not going to be winning an Oscar anytime soon.
This image represents why I work at 50CAN: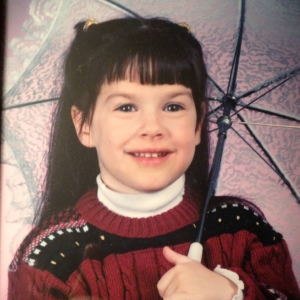 This is me as a kid. It's a picture that reminds me just how happy my childhood really was. I want all kids to know the contentment and security I knew as a child, and I hope our work at 50CAN contributes in some small way to many happy childhoods.